"Вакцинална колебљивост" у западној и источној Европи: значај контекстуалних утицаја
ДОИ: https://doi.org/10.2298/GEI2203153T УДК 39:351.774.7(4) Прегледни рад
Сажетак
У раду се на примеру источне и западне Европе указује на значај контекстуалних утицаја на одлуке и понашање у погледу вакцина и вакцинације. Контекстуалне детерминанте су идентификоване као важне приликом теоријског уобличавања појма "вакциналне колебљивости" који омогућава свеобухватно разумевање разлога због којих у јавности долази до преиспитивања вакцина. Стога је у раду најпре представљена теоријска разрада поменутог концепта, а потом се разматрају контекстуални утицаји на вакциналну колебљивост унутар европског простора како би се уочиле разлике које у том погледу постоје између западне и источне Европе, као и између одређених мањинских заједница и већинског становништва у западноевропским земљама. Показало се да је у свим случајевима вакцинална колебљивост питање поверења, али је оно више нарушено услед друштвених и политичко-економских искустава која су карактеристична за постсоцијалистички контекст у источној Европи и за услове у којима живе неке мањинске заједнице у западној Европи. Представљање теоријског оквира појма вакциналне колебљивости је засновано на прегледу извештаја Радне групе за вакциналну колебљивост при СЗО, док су за приказ контекстуалних детерминанти узети резултати квантитативних и квалитативних истраживања у различитим европским земљама и прегледи студија које у свом фокусу имају поменуте утицаје.
Кључне речи: вакцинална колебљивост, вакцинално понашање, социо-културне и политичке детерминанте, Европа
Reference
Agerberg, Mattias. 2017. "Failed expectations: Quality of government and support for populist parties in Europe." European Journal of Political Research 56 (3): 578–600.
Ali, Karam Adel & Lucia Pastore Celentano. 2017. "Addressing vaccine hesitancy in the 'post-truth' era." Eurohealth 23 (4): 16–20.
Appendices to the Report of the SAGE Working Group on Vaccine Hesitancy 2014. https://www.who.int/immunization/sage/meetings/2014/october/2_ SAGE_Appendicies_Background_final.pdf (pristupljeno 11. 02. 2021).
Baker, Jeffrey P. 2003. "The pertussis vaccine controversy in Great Britain, 1974– 1986." Vaccine 21: 4003–4010.
Bazylevych, Maryna. 2011. "Vaccination Campaigns in Postsocialist Ukraine: Health Care Providers Navigating Uncertainty." Medical Anthropology Quarterly 25 (4): 436–456.
Blume, Stuart. 2021. "Goodbye Global Health?" Гласник Етнографског института САНУ LXIX (3): 531–541.
Borghetti, Jean-Sebastien. 2016. "Causation in Hepatitis B. Vaccination Litigation in France: Breaking Through Scientific Uncertainty?" Chicago-Kent Law Review 91 (2). https://scholarship.kentlaw.iit.edu/ cklawreview/vol91/iss2/7?utm_source=scholarship.kentlaw.iit.edu%2Fck- lawreview%2Fvol91%2Fiss2%2F7&utm_medium=PDF&utm_campaign=PD- FCoverPages (pristupljeno 19. 05. 2022).
Bracewell, Wendy & Alex Drace-Francis. 1999. "South-Eastern Europe: History, Concepts, Boundaries." Balkanologie 3 (2): 1–16.
Brujić, Marija. 2020. "Batina bez šargarepe": antropološka analiza dnevne štampe o obaveznoj MMR vakcinaciji u Srbiji." Etnoantropološki problemi 15 (4): 979–1006.
Brujić, Marija. 2022. "In Torlak we (would) trust: domestic vaccine production in contemporary Serbia." Medical Humanities. doi:10.1136/med- hum-2021-012212.
Burgess, David C. Margaret A. Burgess & Julie Leask. 2006. "The MMR vaccination and autism controversy in United Kingdom 1998–2005: Inevitable community outrage or a failure of risk communication?" Vaccine 24: 3921–3928.
Cooper, Sara, Cornelia Betsch, Sambala Z. Evanson, Mchiza Nosicelo & Charles S. Wiysonge. 2018. "Vaccine hesitancy – a potential threat to the achievements of vaccination programmes in Africa." Human Vaccines and Immunotherapeutics 14 (10): 2355–2357. doi:10.1080/21645515.2018.1460987.
Collins Henry, Robert Evans. 2008. Rethinking Expertise. Chicago: University of Chicago Press.
Damnjanović, Kaja. Graeber Johanna, Ilić Sandra, Lam Wing Y., Lep Žan, Morales Sara, Pulkkinen Tero & Vingerhoets Loes. 2018. "Parental Decision-Making on Childhood Vaccination." Frontiers in Psychology 9. DOI: 10.3389/fpsyg.2018.00735.
Draškić, Marija. 2018. "Obavezna vakcinacija dece: pravo pacijenata ili interes javnog zdravlja?" Anali Pravnog fakulteta u Beogradu 66 (3): 7–30.
De Figueiredo, A. E. Karafillakis & H. J. Larson. 2020. State of Vaccine Confidence in the EU+UK. Luxembourg: Publications Office of the European Union. Gangarosa EJ, Galazka AM, Wolfe CR, Phillips LM, Gangarosa RE, Miller E & Chen
RT. 1998. "Impact of anti-vaccine movements on pertussis control: the untold story." Lancet 351 (9099): 356–361. doi: 10.1016/s0140-6736(97)04334-1.
Gray, Muir. 1999. "Postmodern medicine." Lancet 354: 1550–1553.
Hussain Shoaib Fahad, Peter Boyle, Preeti Patel & Richard Sullivan. 2016. "Eradicating polio in Pakistan: an analysis of the challenges and solutions to this security and health issue." Global Health 12 (1). doi:10.1186/s12992-016- 0195-3.
Karafillakis, Emilie, Irina Dinca, Franklin Apfel, Sabrina Cecconi, Andrea Wurz, Judit Takacs, Jonathan Suk, Lucia Pastore Celentano, Piotr Kramarz & Heidi J. Larson. 2016. "Vaccine hesitancy among healthcare workers in Europe: A qualitative study." Vaccine 34: 5013–5020.
Kata, Anna. 2012. "Anti-vaccine activists, Web 2.0, and the postmodern paradigm – An overview of tactics and tropes used online by the anti-vaccination movement." Vaccine 30: 3778– 3789.
Larson, Heidi J., Caitlin Jarrett, Elisabeth Eckersberger, David M.D. Smith & Pauline Paterson. 2014. "Understanding vaccine hesitancy around vaccines and vaccination from a global perspective: A systematic review of published literature, 2007–2012." Vaccine 32: 2150–2159.
Larson, Heidi & Will Schulz. 2015. The State of Vaccine Confidence. The Vaccine Confidence Project London School of Hygiene & Tropical Medicine. https:// www.vaccineconfidence.org/ (pristupljeno 19. 05. 2022).
Larson, Heidi. de Figueiredo A, Xiahong Z, Schulz WS, Verger P, Johnston IG, Cook AR & Jones NS. 2016. "The State of Vaccine Confidence 2016: Global Insights Through a 67-Country Survey." EBioMedicine 12: 295–301. doi: 10.1016/j.ebiom.2016.08.042.
Lazić, Mladen & Slobodan Cvejić. 2004. "Promene društvene strukture u Srbiji: slučaj blokirane post-socijalističke transformacije." U Društvena transformacija i strategije društvenih grupa. Svakodnevica Srbije na početku trećeg milenijuma, ur. Anđelka Milić, 39–70. Beograd: Institut za sociološka istraživanja Filozofskog fakulteta u Beogradu.
Leach, Melissa & James Fairhead. 2007. Vaccine Anxieties – Global Science, Child Health and Society. London: Earthscan.
Ljubojević, Suzana. 2006. "The human papillomavirus vaccines." Acta Dermatovenerol Croat. 14 (3): 208.
MacDonald, Noni E. 2015. "Vaccine hesitancy: Definition, scope and determinants." Vaccine 33: 4161–4164.
Mujović-Zornić, Hajrija. 2016. "Odgovornost za štetu od vakcina." Pravni život. Časopis za pravnu teoriju i praksu 9: 303–320.
Nichter, Mark. 1995. "Vaccinations in the third world: a consideration of community demand." Social Science & Medicine 41 (5): 617–632.
Razai, Mohammad S. Tasnime Osama, Douglas G J McKechnie & Azeem Majeed. 2021. "Covid-19 vaccine hesitancy among ethnic minority groups." The British Medical Journal 372 https://doi.org/10.1136/bmj.n513
Report of the SAGE Working Group on Vaccine Hesitancy 2014 https://www. who.int/immunization/sage/meetings/2014/october/1_Report_WORKING_ GROUP_vaccine_hesitancy_final.pdf (pristupljeno 08. 02. 2022).
Reid, John A. & Mzwandile A. Mabhala. 2021. "Ethnic and minority group differences in engagement with COVID-19 vaccination programmes – at Pandemic Pace; when vaccine confidence in mass rollout meets local vaccine hesitancy."
Israel Journal of Health Policy Research 10 (33). https://doi.org/10.1186/ s13584-021-00467-9
Robinson, Eric, Andrew Jones, India Lesser & Michael Daly. 2021. "International estimates of intended uptake and refusal of COVID-19 vaccines: A rapid systematic review and meta-analysis of large nationally representative samples." Vaccine 39 (15): 2024–2034.
Sallam, M. 2021. "COVID-19 Vaccine Hesitancy Worldwide: A Concise Systematic Review of Vaccine Acceptance Rates." Vaccines 9 (160). https://doi.
org/10.3390/vaccines9020160
Sanders, Jet G. Pita Spruijt, Mart van Dijk, Janneke Elberse, Mattijs S. Lambooij, Floor M. Kroese & Marijn de Bruin. 2021. "Understanding a national increase in COVID-19 vaccination intention, the Netherlands, November 2020–March 2021." Euro Surveill 26 (36) doi: 10.2807/1560-7917. ES.2021.26.36.2100792
Sato, Ryoko & Yoshito Takasaki. 2021. "Vaccine Hesitancy and Refusal: Behavioral Evidence from Rural Northern Nigeria." Vaccines 9 (9): 1023. doi:10.3390/ vaccines9091023.
Siani, Alessandro. 2019. "Measles outbreaks in Italy: A paradigm of the re-emergence of vaccine preventable diseases in developed countries." Preventive Medicine 121: 99–104.
Simenunović-Bajić, Nataša. 2008. "Negativni stereotipi: Romi su kriminalci – analiza tekstova iz tabloidnog lista Kurir." Teme – Časopis za društvene nauke 32 (4): 757 –760.
Soares, Patricia, João Victor Rocha, Marta Moniz, Ana Gama, Pedro Almeida Laires, Ana Rita Pedro, Sónia Dias, Andreia Leite & Carla Nunes. 2021. "Factors Associated with COVID-19 Vaccine Hesitancy." Vaccines 9 (300) https:// doi.org/10.3390/vaccines9030300
Stojković, Ana, Jovana Lazarević, Dunja Anzelm, Uroš Drljača, Iris Žeželj, Kaja Damnjanović. 2017. "Psychological correlates of resistance to mandatory child vaccination." U 20th Psychology days in Zadar. Book of Selected Proceedings, prir. Irena Burić, 225–233. University of Zadar, Department of Psychology.
Tankwanchi, Akhenaten Siankam, Brett Bowman, Michelle Garrison, Heidi Larson & Charles Shey Wiysonge. 2021. "Vaccine hesitancy in migrant communities: a rapid review of latest evidence." Current Opinion in Immunology 71: 62–68 https://doi.org/10.1016/j.coi.2021.05.009
Trifunović, Vesna. 2017. "Temporality and Discontinuity as Aspects of Smallpox Outbreak in Yugoslavia." Glasnik Etnografskog instituta SANU LXV (1): 127–145.
Trifunović, Vesna. 2019. "Framing Vaccination in Post-Socialist Serbia: An Anthropological Perspective." Etnoantropološki problemi 14 (2): 507–529.
Trifunović, Vesna, Katrine Bach Habersaat, Darija Kisić Tepavčević, Verica Jovanović, Milena Kanazir, Goranka Lončarević & Cath Jackson. 2021. "Understanding vaccination communication between health workers and parents: A Tailoring Immunization Programmes (TIP) qualitative study in Serbia." https://doi.org/10.1080/21645515.2021.1913962
Trifunović, Vesna. 2021. "Vaccine Production in Serbia: Political and Socio-Cultural Determinants in Historical Perspective." In Immunization and States: The Politics of Making Vaccines, eds. Stuart Blume & Baptiste Baylac-Paouly, 176–198. New York: Routledge.
Wilder-Smith, Annika B. & Qureshi Kaveri. 2020. "Resurgence of Measles in Europe: A Systematic Review on Parental Attitudes and Beliefs of Measles Vaccine." J Epidemiol Glob Health 10 (1): 46–58. doi: 10.2991/jegh.k.191117.001
Wong, Li Ping, Pooi-Fong Wong, Megat Mohamad, Amirul Amzar, Megat Hashim, Liyuan Han, Yulan Lin, Zhijian Hu, Qinjian Zhao, & Gregory D. Zimet. 2020. "Multidimensional social and cultural norms influencing HPV vaccine hesitancy in Asia". Human vaccines & immunotherapeutics 16 (7): 1611–1622. doi:10.1080/21645515.2020.1756670
Yaqub, Ohid, Sophie Castle-Clarke, Nick Sevdalis & Joanna Chataway. 2014. "Attitudes to vaccination: A critical review." Social Science & Medicine 112: 1–11. doi.org/10.1016/j.socscimed.2014.04.018.
Žikić, Bojan. 2022. "Odbijanje vakcinacije protiv kovida-19 u Srbiji kao primer socijalnog solipsizma." Etnoantropološki problemi 17 (1): 233–257.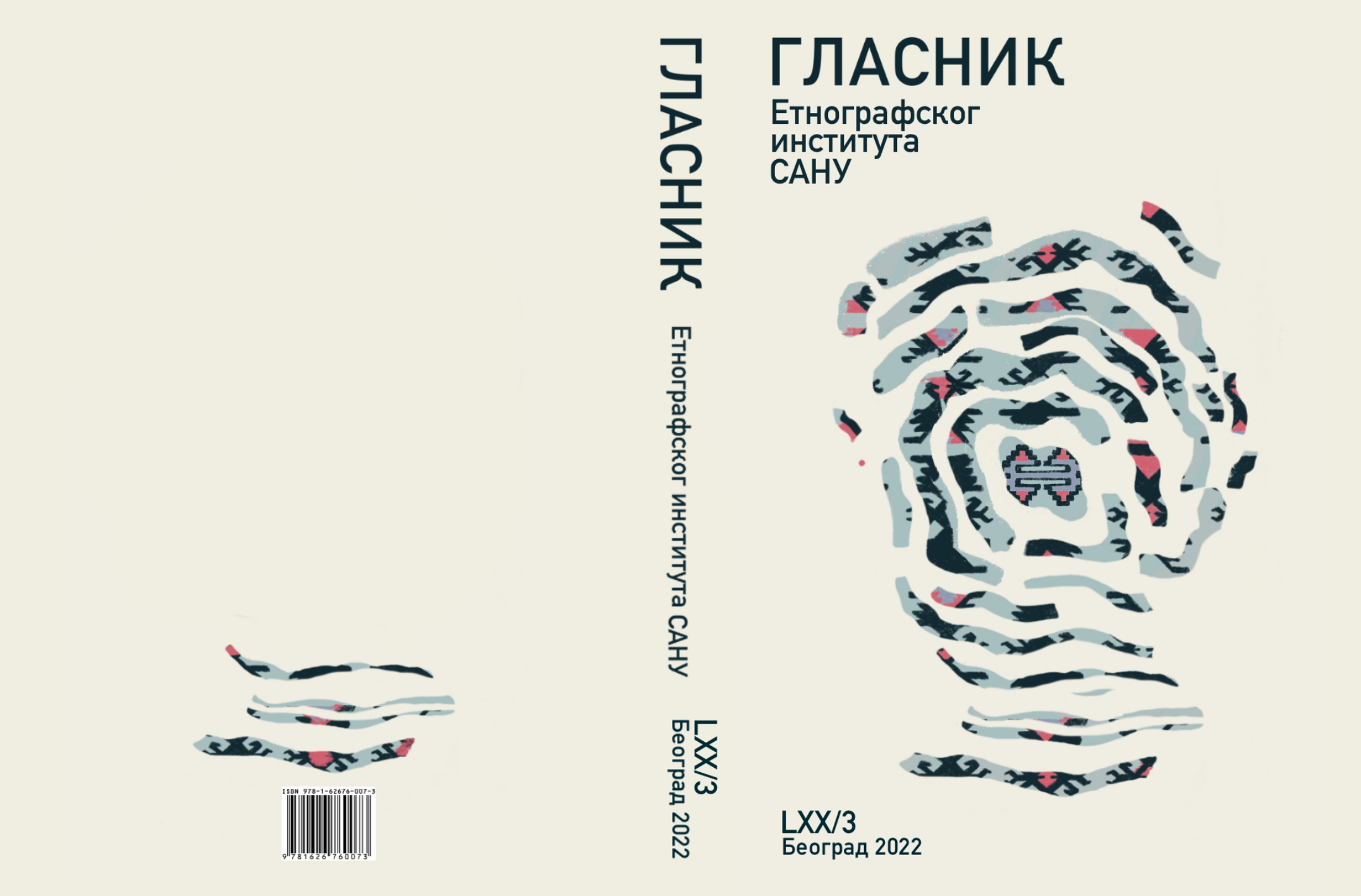 Како цитирати
TRIFUNOVIĆ, Vesna. "Вакцинална колебљивост" у западној и источној Европи: значај контекстуалних утицаја.
Гласник Етнографског института САНУ
, [S.l.], v. 70, n. 3, p. 153–173, jan. 2023. ISSN 2334-8259. Доступно на:
<
https://www.ei.sanu.ac.rs/index.php/gei/article/view/1045
>.
Датум приступа: 30 nov. 2023