Пандемија: плодно тло за ауторитарно грабљење моћи
ДОИ: https://doi.org/10.2298/GEI2103609Z УДК 316.46.058.4:39:616.98 Оригинални научни рад
Zona Zarić

Институт за филозофију и друштвену теорију, Универзитет у Београду (ИФДТ), École normale supérieure (ENS), Париз


zona.zaric@ens.fr

Ivica Mladenović

Институт за филозофију и друштвену теорију, Универзитет у Београду (ИФДТ), Centre de recherches sociologiques et politiques (LabTop-CRESPPA), Париз


ivicamladenovic@cnrs.fr
Сажетак
Овај чланак покушава да покаже да је пандемија ковида 19 пружила могућности бројним (не)демократским владама да наметну нова ограничења грађанских слобода, прогоне противнике, лимитирају протесте и уводе нове технике масовног надзора, претварајући тако разарајући биолошки вирус у штетни политички вирус који је за само неколико месеци у великој мери довео у питање свеукупно стање слободе у свету. У земљама које се сматрају недемократским, али и у такозваним демократским државама, ограничење слобода се оправдава у име очувања живота (zoē). Овај нови историјски догађај открива чињеницу да криза није решавана демократским средствима, чак ни у демократским државама, већ средствима која су заједничка свим државама, укључујући и оне најауторитарније: коришћењем технологија праћења, без регуларних процедура или контроле од стране посредничких тела, доношењем одлука од стране неколицине, и коришћењем хитности ситуације како би се обезбедила грабила превелика овлашћења. Користећи интерпретативни оквир Мишела Фукоа, Жила Делеза и Ђорђа Агамбена, настојимо да оцртамо нови смер касног капитализма и потенцијалне политичке ефекте руковођења здравственом кризом.
Кључне речи: коронавирус, криза, ауторитарност, моћ, надзор, медији, биополитика
Reference
Alain, 1868–1951. 1985. Propos sur les pouvoirs: éléments d'éthique politique. Paris: Gallimard.
Agamben, Giorgio. 2005. State of Exception. Chicago: University of Chicago Press.
Aumercier, Sandrine. 2020. "La Chine, un exemple? Intelligence artificielle et transhumanisme", March 26. https://iatranshumanisme.com/2020/03/26/la- chine-un-exemple/ (Accessed April 23, 2021).
Badiou, Alain. 2020. "On the Epidemic Situation". Verso blogs, March 23. https://www.versobooks.com/blogs/4608-on-the-epidemic-situation (Accessed April 27, 2021).
Baverez, Nicolas. 2020. "Les libertés au temps du coronavirus". Commentaire 170 (2): 265–270.
Blondiaux, Loïc. 2021. "De la démocratie en France. En finir avec les faux- semblants". Esprit 4: 87–99.
Boniface, Pascal. 2020. Géopolitique du Covid-19: Ce que nous révèle la crise du Coronavirus. Paris: Eyrolles.
Borrell, Josep. 2020. "COVID-19 : le monde d'après est déjà là". Politique étrangère 2: 9–23.
Chinese Human Rights Defenders. 2020. "Defending Human Rights in the Time of COVID-19". CHRD March 29. https://www.nchrd.org/2021/03/chrd- releases-defending-human-rights-in-the-time-of-covid-19-annual-report- on-the-situation-of-human-rights-defenders-in-china-2020/ Accessed April 29, 2021).
Chomsky, Noam. 2020. "Coronavirus – Quels sont les enjeux?" DiEM25 TV, March 28. https://www.youtube.com/watch?v=t-N3In2rLI4 (Accessed April 27, 2021).
Deleuze, Gilles. 1986. Pourparlers. Paris: Editions de Minuit.
Drinóczi, Tímea & Bień-Kacała Agnieszka. 2020. "COVID-19 in Hungary and Po- land: extraordinary situation and illiberal constitutionalism". The Theory and Practice of Legislation 8 (1–2): 171–192.
Elkins Zachary, Tom Ginsburg, & James Melton. 2009. Endurance of National Constitutions. New York: Cambridge University Press.
Evans Richard J. 1987. Death in Hamburg. Society and Politics in the Cholera Years 1830–1910. Oxford: Clarendon Press.
Foucault, Michel. 1995 [1975]. Discipline and Punish: The Birth of the Prison. New York: Vintage.
Guasti, Petra. 2020. "The Impact of the COVID-19 Pandemic in Central and Eastern Europe: The Rise of Autocracy and Democratic Resilience". Democratic theory 7 (2): 47–60.
Guterres, António. 2020. "We Are All in This Together: Human Rights and COVID-19 Response and Recovery". United Nations COVID-19 Response, April 23. https://www.un.org/en/un-coronavirus-communications-team/we-are-all- together-human-rights-and-covid-19-response-and (Accessed May 7, 2021).
Hayat, Samuel. 2020. "La démocratie à l'épreuve du coronavirus". Personal blog, March 23. https://samuelhayat.wordpress.com/2020/03/23/la-democratie- a-lepreuve-du-coronavirus/ (Accessed April 22, 2021).
Human Rights Watch. 2020. "Egypt: Covid-19 Cover for New Repressive Powers". HRW, May 7. https://www.hrw.org/news/2020/05/07/egypt-covid-19- cover-new-repressive-powers (Accessed March 15, 2021)
Human Rights Watch. 2021. "China's Techno-Authoritarianism Has Gone Global". HRW, April 8. https://www.hrw.org/news/2021/04/08/chinas-techno- authoritarianism-has-gone-global (Accessed March 18, 2021).
Jean, Jean-Paul. 2020. "Les juridictions face à la pandémie de Covid-19". Les Ca- hiers de la Justice 3 (3): 493–503.
Fedschun, Travis. 2020. "Turkmenistan bans use of word 'coronavirus,' threatens jail for anyone wearing a mask: watchdog group". FoxNews, April 1. https://www.foxnews.com/world/turkmenistan-coronavirus-word-use- banned-masks-arrest-former-soviet-republic (Accessed April 29, 2021).
Laquièze, Alain. 2020. "L'État français face au coronavirus : réflexions sur l'état d'urgence sanitaire". Cités 84 (4): 37–52.
Lührmann, Anna & Bryan Rooney. 2020. "Autocratization by Decree: States of Emergency and Democratic Decline". V-Dem Working, April 23. https://ssrn.com/abstract=3582527 (Accessed April 21, 2021).
Marciano, Avi. 2021. "Israel's Mass Surveillance during COVID-19: A Missed Opportunity". Surveillance & Society 19 (1): 85–88.
Mao, Yexin. 2021. "Political institutions, state capacity, and crisis management: A comparison of China and South Korea". International Political Science Review 42 (3): 316–332.
Merkel, Wolfgang. 2020. "Who Governs in Deep Crises? The Case of Germany". Democratic Theory 7 (2): 1–11.
Mitoma, Glenn & Alan S. Marcus. 2020. "Human Rights Before and After Covid- 19: Getting Human Rights Education out of Quarantine". Journal of Inter- national Social Studies 10 (2): 127–140.
Panza, Maëlle. 2021. "Crise de la Covid-19 et nature des régimes politiques en Méditerranée orientale". Revue Défense Nationale h(HS3): 19–24.
Polanyi, Karl. 1945. "Universal Capitalism or Regional Planning?" The London Quarterly of World Affairs 10 (3): 86–91.
Popelier, Patricia. 2020. "COVID-19 legislation in Belgium at the crossroads of a political and a health crisis". The Theory and Practice of Legislation 8 (1– 2): 131–153.
Repucci, Sarah & Amy Slipowitz. 2021. "Democracy in a Year of Crisis". Journal of Democracy. 32 (2): 45–60.
Ricœur, Paul. 1990. Soi-même comme un autre. Paris: Seuil.
Rochot, Justine. 2020. "La Chine de Xi face à la Covid-19: bottes de cuir et vieilles dentelles". Esprit 12: 87–98.
Smith, Jeffrey & Nic Cheeseman. "Authoritarians Are Exploiting the Coronavirus. Democracies Must Not Follow Suit". Foreign Policy, April 28 https://foreignpolicy.com/2020/04/28/authoritarians-exploiting- coronavirus-undermine-civil-liberties-democracies/ (Accessed April 16, 2021).
Thomson, Stephen & Eric C. Ip. 2020a. "COVID-19 Emergency Measures Are Hurting Democracy Globally". AJPH 110 (9) : 1344–1375.
Thomson, Stephen & Eric C. Ip. 2020b. "COVID-19 emergency measures and the impending authoritarian pandemic". Journal of Law and the Biosciences 7 (1): 1–33. https://academic.oup.com/jlb/article/7/1/lsaa064/5912724 (Accessed May 16, 2021).
Williams, James. 2003. Gilles Deleuze's Difference and Repetition: A Critical Introduction and Guide. Edinburgh: Edinburgh University Press.
Windholz, Eric L. 2020. "Governing in a pandemic: from parliamentary sovereignty to autocratic technocracy". The Theory and Practice of Legislation 8 (1–2): 93–113.
Ziblatt, Daniel & Steven Levitsky. 2019. La Mort des démocraties. Paris: Calmann- Lévy.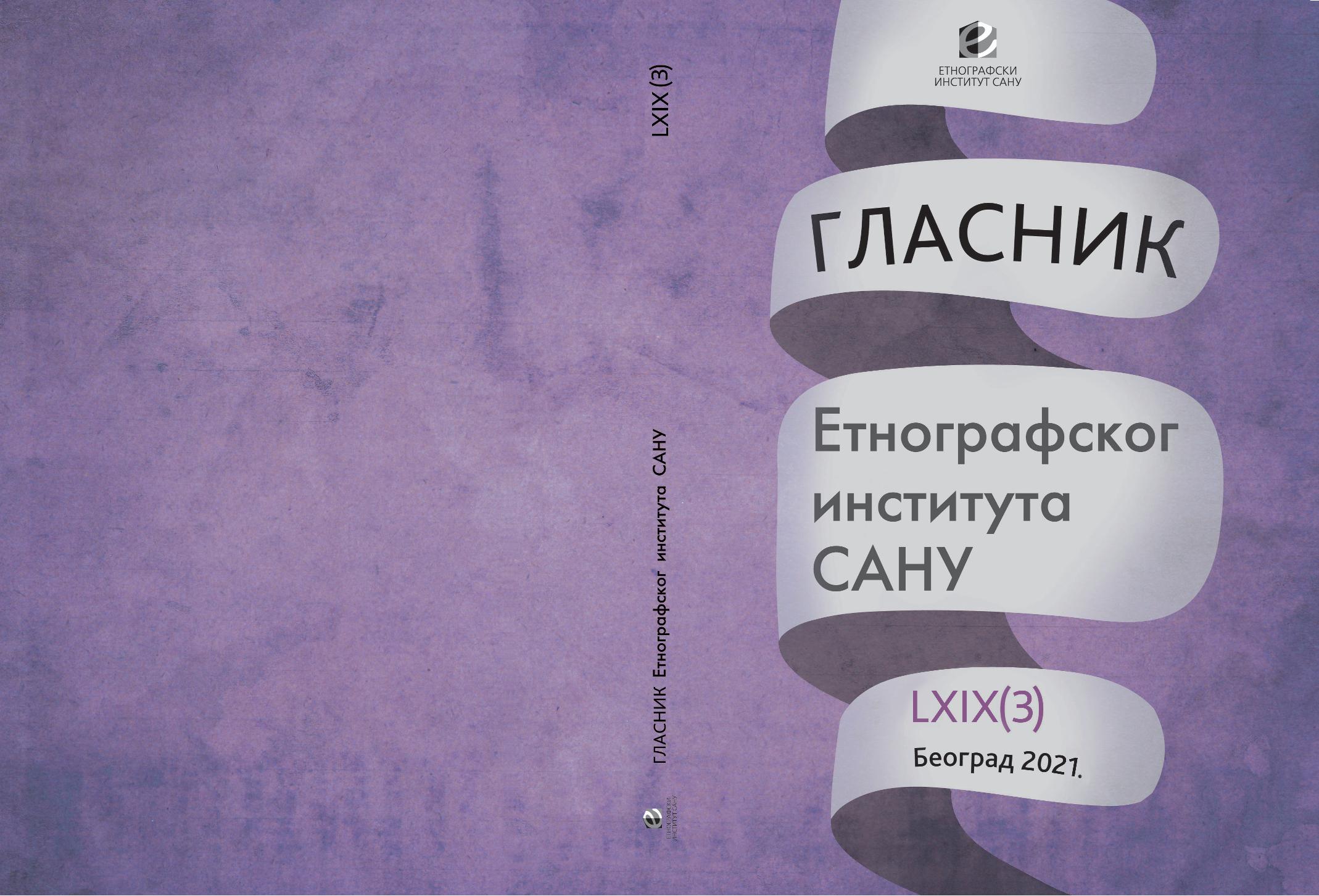 Како цитирати
ZARIĆ, Zona; MLADENOVIĆ, Ivica. Пандемија: плодно тло за ауторитарно грабљење моћи.
Гласник Етнографског института САНУ
, [S.l.], v. 69, n. 3, p. 609–623, jan. 2022. ISSN 2334-8259. Доступно на:
<
https://www.ei.sanu.ac.rs/index.php/gei/article/view/993
>.
Датум приступа: 29 june 2022